Off Season Walking Break at Manaros – New Luxury Accommodation in Aberdaron
Tackle the highlights of the Llyn Coastal Path / Edge of Wales Walk plus an opportunity for a great house party for walkers and non-walkers alike. Suitable for groups of up to 8 persons – self catering with some transport provided.
Saturday (start day is flexible)
We will be there to meet you as you arrive in Aberdaron, a beautiful fishing village at the tip of the Llŷn Peninsula. On your way you might like to visit Snowdonia or one of the great castles on the coast. Park at Manaros and settle into your rooms any time after 3.00pm where you either cook for yourselves in the luxury kitchen or go out to eat in the hotels in the village.
Sunday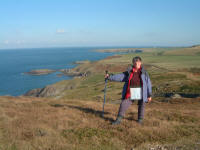 Follow us in your car to Nefyn which will be the end point of today's walk. We will give you a lift to the base of Tre'r Ceiri Iron Age Hill Fort. This is one of the best preserved hill forts in Europe and the largest to be built of stone. We will supply a detailed laminated map and show you how to use the pre-programmed GPS unit.

Walk down from the fort, and through the pass to the beautiful and isolated valley of Nant Gwrtheyrn, snaking down the sheer sides of the valley see www.nantgwrtheyrn.org. Continue along the cliffs through wind-stunted oak woodland before reaching chough country and the tiny pilgrim's church at Pistyll finishing in the seaside village of Nefyn and your car (Distance = 12 miles).
Monday
Follow us in your car to the free car Park at Penllech beach. We will give you a lift on to Nefyn from here. Set off along the coast past the celebrated Inn at Porth Dinllaen and some of the best coastal scenery in the UK www.tycoch.co.uk. This section is noted for the seals and dolphins which are often visible. (Distance = 12 miles).
Tuesday
Today we will take you directly to Whistling Sands, from where you can walk around the National Trust owned headland at the tip of the peninsula- stunning views of Bardsey Island and St Mary's Well at the Land's End of Wales- finishing in Aberdaron (Distance = 11 miles).
Wednesay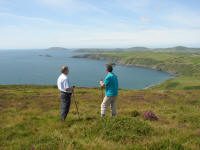 After checking out of Manaros, drive to Porth Meudwy, not far from Aberdaron, and take the Enlli ferry across to Bardsey Island see www.bardsey.org. This is a beautiful place, full of wildlife and steeped in history. Visitors have three hours to explore before returning to the mainland. The cost is £28 per head. You will return circa 3:30pm and can set off for home. If the weather prevents a sea passage then we can take you to Mynydd Rhiw from where you can walk back along the south coast of the peninsula to Aberdaron (Distance=12 miles).
Price
The cost of renting Manaros with all towels and linen and fuel provided for the 4 nights for this off-season break would be £522. Transport as described would be £90. The total cost would therefore be £612 which equates to £76.50 per person for a group of 8 for what will be a top quality experience. If you wanted only 3 nights with a reduced, more local transport programme, then the cost of renting Manaros would be £425 plus £50 for transport, a total of £475, or £59.37 per person.
Telephone 01758 760 652
Email enquiries@aberdaroncottage.co.uk
If you want something different then we can probably fix it for you, just call us as we are keen to have Manaros used throughout the year. There's lots of good golf and lots of places to see around here. It is generally mild in winter and beautifully quiet.