Senior and All-Abilities Holiday Break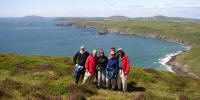 An opportunity for groups of friends (of whatever age) to visit the Llŷn Peninsula for a week's holiday enjoying door to door transport, a fully accessible 4 star graded seaside house, unlimited use of a Tramper all-terrain buggy and as much service, cleaning and cooking as the group requires.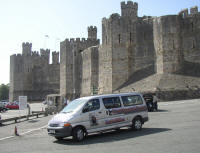 -Easy travel Collection and return by our 11 seated minibus from a series of grouped addresses in one part of mainland UK so that friends can travel together as a group and door to door.
-Wheelchair access and easy movement throughout the house, conservatory and patio. No carpets, no steps, no radiators. There are wide corridors and an open plan kitchen dining and lounge area and underfloor heating. Details on Access Statement on website.
-Two Accessible bathrooms fully equipped with wheelchair accessible shower and WC.
-All bedrooms are en suite with luxury linen and double or two single bed arrangements.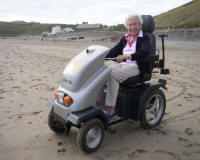 -All terrain electric buggy brings an opportunity to get out into the beautiful Llŷn countryside or along the mile long beach in Aberdaron.
-Full service support from an adjacent house. Guests can fully self cater or staff can come in and cook some or all meals.
-Excursions to local beaches and points of historical interest. We can use our minibus to take you to one of the areas fine sandy beaches, many of which have good facilities, or local castles and churches.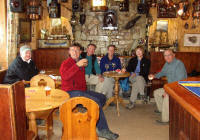 -Transport to and from Local Hotels for Special Meals Out.
This is a 7 night holiday and the prices are listed here plus whatever extra services you require in terms of transport, excursions and meals etc. Once we learn of your requirements (do please call us on 01758 760 652) we can come up with a fully priced comprehensive offer for you to put to your friends.
If some members of the group would like to do something else then see our other packages - perhaps golf, walking or cycling, and we will do our best to let you mix and match the packages.